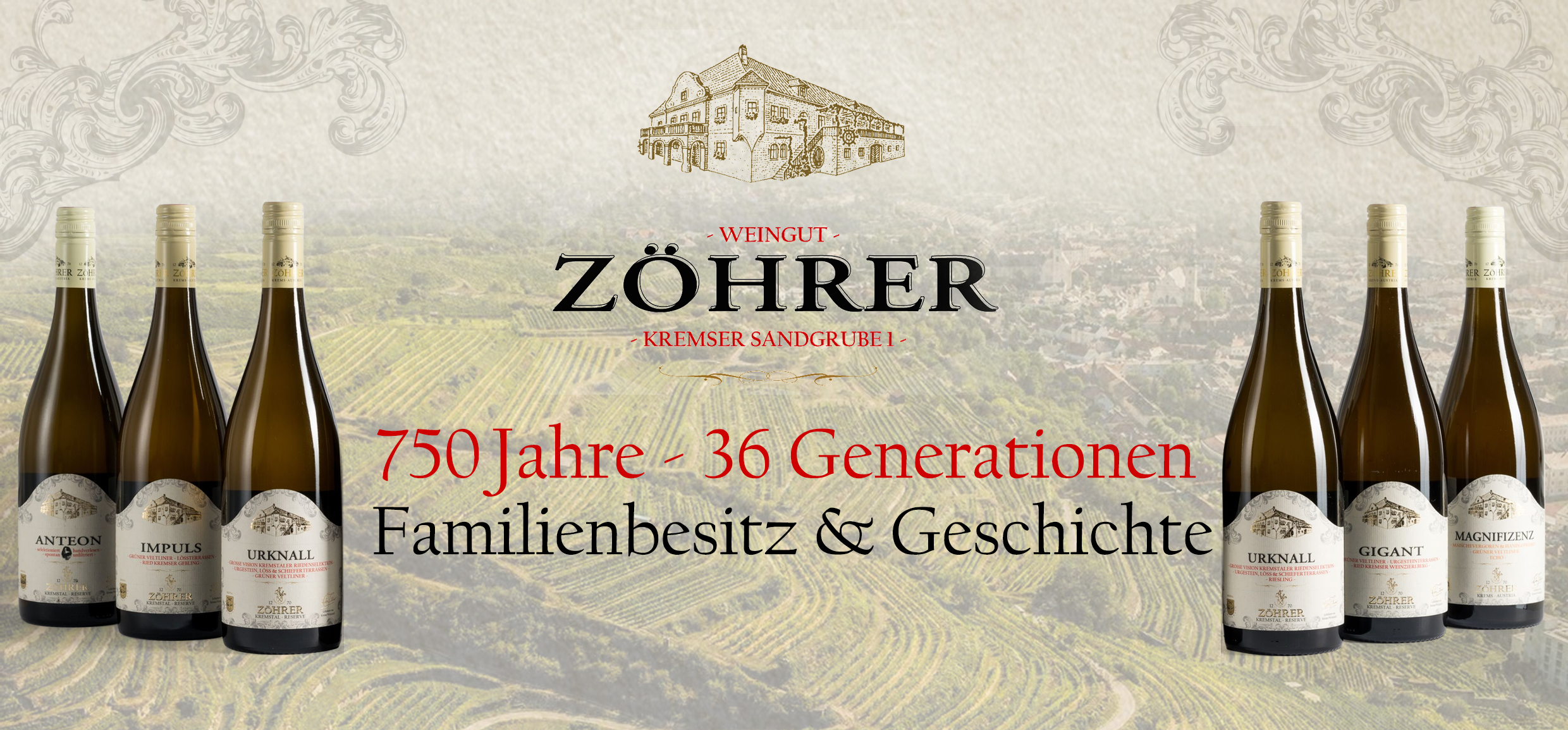 Zöhrer Estate anno 1270
The roots of the estate date back to the Babenberger in the Austrian history. Around 1300 Albrecht I (1255-1308) enfeoffed twenty of his most loyal followers with farm- and wetlands, fruit- and vineyards in and around "Weinzierl" (nowadays a district of Krems).
The Kuenrings had been their advocates. In 1340 Albrecht II (?-1358) had confirmed these rights. Already then the vineyards had been cultivated and wine had been pressed by the "Twenty enfeoffs" – who were simple landlords.
In 1705 the landlords formed a free community with its own claim to power and jurisdiction. Until this date they had been subjects of the "Grafenegg" manor from which they were able to ransom. In 1923, thus 600 years later, the manors had been split between the respective landlords. Today only three of the "Twenty enfeoffs" have stayed over – like the Zoehrer Estate.
During the 1970ies the Zoehrer family adopted the resolution to convert the old cellar at "Kremser Sandgrube" to a newly established farmstead outside the village in order to pamper their guests with traditional dishes and the outstanding landscape.
Since 1983 the meanwhile renowned venue has been private residence, wine tavern and estate of the Zoehrer family. And since 1999 guests have felt like at home in our guestrooms.
A short historical review
The landlords and "Krems/Weinzierl"
First-time mention of ``Weinzierl`` in the charts of cloister St. Georgen an der Traisen
In 1112:
Albert von Kuenring- Advocate of the landlords - is at litigation with a ``genteel lady`` - this is confirmed in a document of the Munich public record office.
In 1240
Duke Albrecht II. confirms the rights of the ``Twenty landlords``
In 1340
The territorial vineyards were again liberated from the connection with the feoffs.
Between 1522 and 1566:
Redemption from the Grafenegg manor by the "landlord community" – for a price of 12.000 guilder the village of Weinzierl had been acquired with all its belongings including its own administration and jurisdiction.
In 1705:
Purchase of the ``Antoni church`` and the ``Siechen hospital`` by the ``Bürgerspital-Krems``
In 1795:
Inauguration of the new cemetery
In 1876:
Voluntary merging of Krems to Weinzierl - In 1909 Weinzierl has 85 street numbers
In 1905:
Liquidation of the corporate property and segmentation to the respective members (apart from a remainder).
Between 1923 - 1929:
Birth of Anton Zöhrer XXXV
In 1954:
Master examination of Anton Zöhrer XXXV
In 1976:
Birth of Toni Zöhrer XXXVI
In 1980:
Opening of the new site of the Zoehrer estate in ``Kremser Sandgrube 1``.
In 1983:
Repeated Gold and ``Big Gold`` medals at Austrian wine exhibitions
Between 1985 & 1995:
First export of wine to foreign countries
In 1989:
Acceptance to the ``Salon Österreichischer Weine``
In 1996:
Opening of the Zoehrer guest house - directly located at the Estate
In 1997:
Repeated victories at the ``Kremser Sandgruben Champion dégustations``
Between 2000 and today:
Master examination of Toni Zöhrer XXXVI
2003:
First export to North America
2005:
First export to Asia
2009:
Toni Zöhrer was elected as ``the newcomer of the year``
2011:
Start of the partnership with the ``SAND 1 Collection`` by the TOP Gastronomy
2012:
Zoehrer Estate 3 times at ``Salon Österreichischer Wein`` with two different grape varieties
Also in 2012:
Birth of Anton Zöhrer XXXVII
In 2013:
business takeover of Toni Zöhrer XXXVI
Also in 2017:
Vice world champion with Grüner Veltliner SAND 1 at AWC Vienna
In 2017: