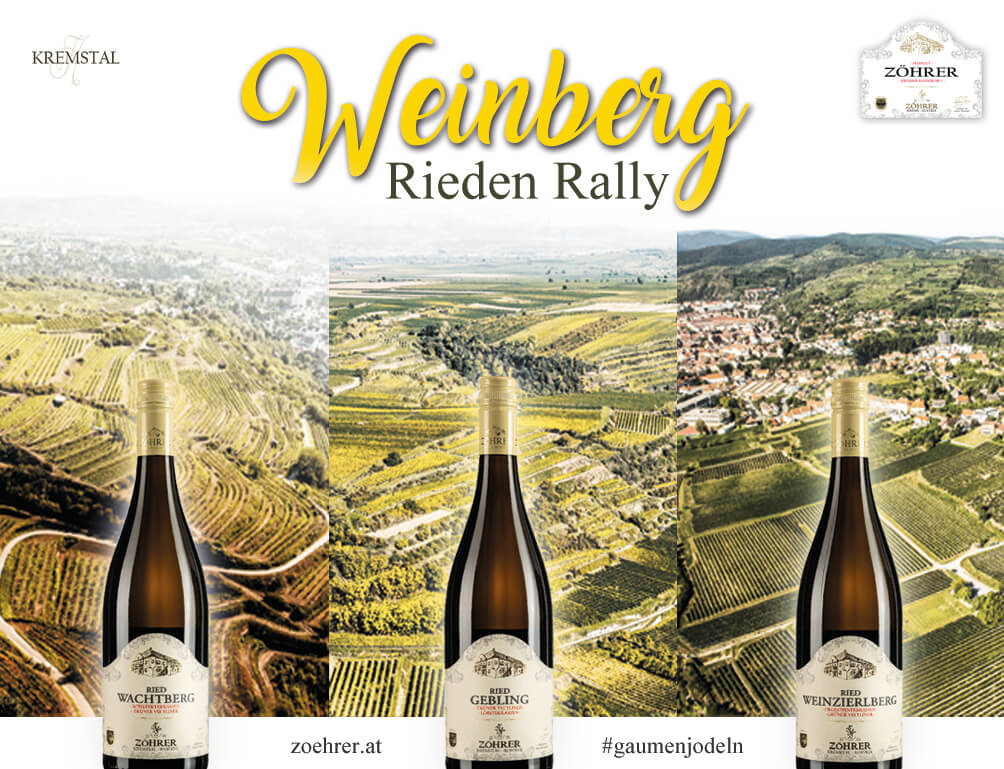 The start of the vineyard rallye is at Zoehrer estate/Kremser Sandgrube. The track leads to the most beautiful places of Krems, through a very famous area of wine growing and will let you experience the life of a vintner in harmony with nature and the more than 1.000 year old town.
You will see where and how and on which soils the famous wines of our estate are cultivated. You will "taste" the various soils like primary rock, loess and slate – direct at the terraced vineyards and you can see yourself a perfect picture of the unique town of Krems and its world famous wine.
Meeting point: Directly at the Zoehrer estate or at any other accommodation.
Vineyard rallye routes:
Start: at the Zöhrer winery
Duration: approx. 70 – 90 min
When: Daily under telephone reservation – 0676 / 926 1454 (from 9.00)
Persons: min. 4 – max. 8 (larger groups possible, please inquire)
up to 4 persons all-inclusive depending on the rally 80€
Prices: 17€ / person incl. 3 wines
You can also book additional wines for our vineyard rallies – price on request!
10 € / child (under 16 years) with children's wine (grape juice)
If you don't have a bus or car yourself, we can book a bus for you from a bus company – price on request!
Bonus:
Of course you can take the wines with you after the vineyard rallye at the "ex farm price".